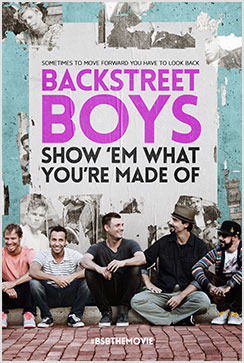 THE CAST
If you ask any member of Backstreet Boys to share a seminal moment from the Grammy Award nominated pop juggernaut's two decades in music, you'll get a variety of different answers. There's no shortage of accolades to choose between: the biggest-selling boy band in history, in excess of 130 million albums sold worldwide, the only group since Sade to release seven consecutive albums into the top 10 of the Billboard Top 200. However, the boys have their own picks.
Brian Littrell remembers the time the group performed the largest indoor show ever recorded at the Georgia Dome during 2000's Millenium Tour, a record that still hasn't been broken. Meanwhile, AJ McLean recalls an 8-hour Rio stopover in the midst of the Around the World Tour when 48,000 fans swarmed the outside of the hotel for a mere glimpse of the 5 boys. For Kevin Richardson, it's a tossup between performances on stage with Sting and Elton John and the first time he and his mom heard "Quit Playing Games (With My Heart)" on the radio in 1996. Each of their seven Grammy Award nominations holds a special place in Howie Dorough's heart. However, all five musicians can agree with equal excitement on one thing—the future.
That bright future commences with their eighth full-length studio album, "In A World Like This". Not only does the 2013 release celebrate 20 years of Backstreet Boys, it's their first effort with founding member Richardson since 2005's "Never Gone". It comes hot on the heels of their historic global co-jaunt with New Kids on the Block, NKOTBSB, in 2011, and three consecutive sold-out annual cruises. It also proves that Backstreet Boys are back and better than ever. After Richardson announced his return to the fold in early 2012, recording proved imminent.
Instead of simply hunkering down at home, the quintet hopped on a plane to the United Kingdom to spend three weeks living and writing together with producer Martin Terefe (Jason Mraz, Train) to begin work on the music which would eventually become In A World Like This, set for release on July 30th. For the first time since 2000, these five individuals all lived under the same roof and they rekindled their collective chemistry almost immediately.
"It was one of the best bonding experiences we've ever had," affirms Howie. "We focused on the music. We had the opportunity to hone in on where we wanted to go creatively and we got to know each other on a new level with Kevin back. The group has a different dynamic with him. The sound feels complete and fully rounded."
"It was like The Real World," laughs AJ about their time in London. "We've been on tour buses before as a group, but here we were making breakfast, playing video games, working out, and cruising to the studio together. The first night there, we all picked up instruments and played a song together in this kumbaya moment. When Kevin came back, it was like we hadn't missed a step. The morale's better than ever."
In early 2012, Kevin had felt the spark to join Backstreet Boys again, and the trip to London only fanned the flame. "It was exciting, easy, and comfortable," he proclaims. "Music has always been a huge part of my life. When I left, I put it aside to focus on starting a family with my wife and work on other creative pursuits. The door was always opened though, and I felt inspired to call them after they finished the NKOTBSB tour."
THE CREW
2013 started with a bang. Backstreet Boys were honored with a star on the Hollywood Walk of Fame, celebrated 20 years together with a fan celebration streamed worldwide and launched a worldwide tour beginning with sold out arenas across China. Every step of the way BSB was boasting a bevy of new material for their diehard and impressively loyal fan base.
"We wouldn't be here without the fans," McLean goes on. "We want them to know that we've never gone away and we never will. We're thankful for everything they've done for us. I feel like this album makes that statement loud and clear."
Littrell continues, "I want the fans to see us, feel us, and hear us for who we are now. They helped us create all of this. I want them to be attached to this emotionally. Music is our heart and soul. We live and breathe it every day."
STEPHEN KIJAK - DIRECTOR Kijak studied with renowned film scholar (and Cassavetes expert) Ray Carney and the late, great Mel Howard at Boston University's College of Communication. He has been directing fiction and non-fiction films for over 15 years. His credits include the critically acclaimed BAFTA nominated feature doc 'Scott Walker: 30 Century Man' (executive produced by David Bowie), the celebrated cult documentary 'Cinemania', and the platinum-selling 'Stones In Exile'; a documentary commissioned by The Rolling Stones and produced by Oscar-winning producer John Battsek/Passion Pictures, about the making of the Stones' classic 1972 album 'Exile On Main Street', which premiered as a Special Screening in the 2010 Directors Fortnight in Cannes. In 2011 he teamed with Passion Pictures again and Rob Trujillo from Metallica (making his debut as a film producer) on a feature doc about the late, great legend of the electric bass, Jaco Pastorius, simply titled 'Jaco.' He is currently in production on yet another Passion Pictures production, a feature documentary about X Japan, the biggest rock band to ever emerge from Japan.
MIA BAYS - PRODUCER Film Producer and Distribution/Sales Strategist Mia started as a distributor then sales agent and now is a producer of an Oscar winner, multiple BAFTA and BIFA nominees, working across both docs and fiction with talent such as Martin McDonagh, Ben Whishaw, Eran Creevy, Lucy Walker, Riz Ahmed, Plan B, Stephen Kijak, Scott Walker, David Bowie and now the Backstreet Boys. Starting in the distribution business in 1991 at Mainline Pictures/Screen Cinemas on films by Ang Lee, Shekhar Kapur and John Sayles, she then went into international sales selling films such as Richard III starring Ian McKellen and Robert Downey Jr, a Merchant Ivory film and an early Michael Moore documentary, before joining Granada and then The Film Consortium as Head of Distribution and Marketing. There she started developing campaigns early, working closely with filmmakers and then taking the films into the UKmarket, first with UIP then Pathe, on titles such as 24 Hour Party People and Hideous Kinky starring Kate Winslet.
In 2003 Mia set up her own distribution consultancy and production outfit Missing In Action Films and has since produced the 2005 Oscar winner Six Shooter by Martin McDonagh, overseen as Creative Producer both the productions as well as the releases of the 8 Film London/BBC Films Microwave feature films (eg Shifty, Ill Manors, Lilting). She runs regular distribution/marketing workshops for the London Film School for some years, trains all over the world on subjects across the value chain from filmmaking to distribution/marketing, for orgs such as the Stockholm Film Festival, the Binger Lab, the British Council Cuba/London/Georgia, Film London/BBC Films (Microwave), Screen New South Wales and the New Zealand Film Commission. Mia is a BAFTA member and on the BIFA advisory committee.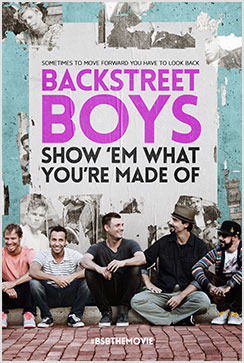 SYNOPSIS
On April 29th 2012 The Backstreet Boys announced the return of Kevin Richardson. For the first time in 6 years the original lineup was formally back... and the filming began...
"What do you do when you're a full grown man in a boy band?" This film is about a band, of course, but it's more universal a story than that - it is about five friends, it is about sacrifice and redemption, it is about a reckoning with a past and a path forward into a new kind of freedom. It is about home and family, and how many different ways we define those things. Having lived exceptional lives in a glaring spotlight, having lost a youth to the demands of fame, home and family can be many things. We see that boys still struggle to become men, forging their paths both in private, in the public eye, and together, through their music.
A reunion in the recording studio; friendships renewed yet dynamic shifts reveal new tensions that need confronting and resolving, both creative and personal. An intimate and emotional journey home reveals personal truths, opens old wounds, brings them closer to each other (and their fans.) We travel with them through the landscape of their past, exploring the sights and sounds of weird American suburbia, the strange and lush dreamland of Orlando and the natural beauty of the Kentucky countryside. We see just how far down their roots go and what makes them who they are today.
In an attempt to find some form of closure on their biggest unanswered question, the band talk properly for the first time in such depth about the man who made it all happen 20 years ago: Lou Pearlman, now currently an inmate at a state penitentiary. Former mastermind behind the biggest boy band of all time, Lou is behind bars for running a massive Ponzi scheme and a catalogue of bad business. Having cheated the Boys and many others out of millions, they attempt to process the biggest and toughest question: why?
Coming Soon
Where you can watch is coming soon! Stay tuned!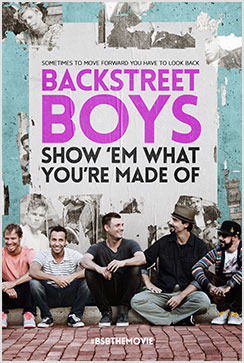 We're bringing you the opportunity to help us decide where we release our film one-night early for special eventized screenings of BACKSTREET BOYS: SHOW 'EM WHAT YOU'RE MADE OF!
Ok so you're probably wondering what exactly does this mean? It means that by heading here: http://BSBMovie.tugg.com and submitting your email and zip code you'll be the first to hear if your town will receive an early screening. We'll be sure to keep you updated once we launch events in your area, but for now, here's how you can help share this opportunity:
1) Share the event link above on Facebook, Twitter, etc. and ask your friends and followers to sign up now!
2) Email your friends the event link and information about the screening and invite them to join you for the early screening. The more people that respond from your city, the more likely it is your city will be chosen.
3) Connect in-person with your friends and family and let them know about the ability to see @backstreetboys #BSBMovie 1 night early!
And be sure to use the hashtag #BSBDocSneakPeek whenever possible!
More info on how to host screenings of the film in your town to come. Keep checking back for more information.