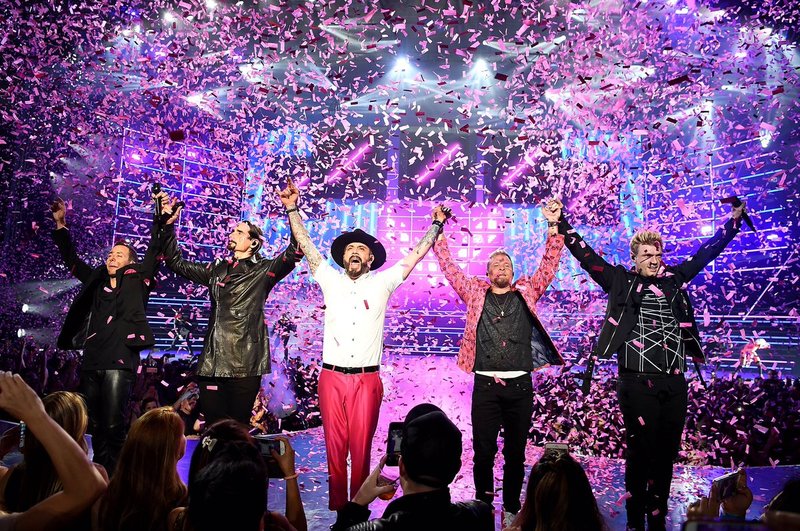 #BSBVegas: Larger Than Life In The Headlines
Three weeks into the Backstreet Boys Vegas run and they've been hitting the headlines as hard as they've been hitting the stage. The show, as promised, is absolutely one a kind and people are taking notice. Filled with major hits and new choreography, Kevin, Howie, Brian, AJ, and Nick are killing it each and every night. They're killing it so hard, in fact, that the Axis Theatre is opening balcony sections for seating for the first time in their history!
Take a look at some of the articles and interviews below to find out interesting tidbits, what's in store for the Boys, and what people are saying about the whole thing.
"Had we gone with the original amount of songs, it probably would have been a three or four hour show," McLean said. "Our die-hards would have been like, 'Yes! Four hours? Fine! Keep on going!' But we'd be dead." Backstreet Boys share their secret to longevity (CNN)
"For us, it was a grassroots approach we call it," Littrell explained. "… You know, I think our fans have proven to us over the years, it's a true testament to longevity in the career world of today because it's hard to have hit after hit after hit." Backstreet Boys are back on stage and 'Larger than Life' (Fox News)
"The thing about it is, no matter what type of song it is -- when the five of our voices come together, it's the Backstreet Boys. Whether it's a country song, an uptempo, a ballad... we want to make music that we're proud of, that we believe in, that we can relate to, and that's what we've always tried to do. We've tried not to chase after a certain sound that might be popular at the time. We try to do us, whatever it is in that moment, whatever moment we're in when we're making that record." – Kevin Richardson
"It's like a drug, a happy drug. And also, when you look across and you see what we've built together -- it's monumental, it's a moment. That's also fulfilling in a way where you do have that thankful nature toward each other for getting there." – Brian Littrell Backstreet Boys' Brian Littrell & Kevin Richardson Talk Florida Georgia Line Collab, 24 Years of BSB (Billboard)
"The fact that we're in one place and we're not having to deal with the business of taking the stage up and down every day, we're able to put a bit more bells and whistles into it. We know this is Vegas, we know people come here to see an over the top, spectacular show where everything is big, so we're gonna do that." – Howie Dorough Backstreet Boy Howie D Talks Las Vegas Residency And What's Next For The Boy Band (Forbes)
"The music encompassed a great period in everyone's life, which is why people still love it. And while we're not as young as we used to be, we pride ourselves in making sure that when we hit that stage, it's something that people can remember and it's a representation of an era," [Carter] says. "This is like Christmas for us. It's like a Christmas present that we get to open up." From Backstreet to Britney: Why '90s Pop Is Taking Over Las Vegas (Marie Claire)
"The throwback 'dos aren't the only part of the show that the timeless heartthrobs find a little cringe-worthy, however. Many of the photos included in the background of their show were actually chosen by the guys' mothers and wives, which means a whole bunch of embarrassing baby pics." Why the Backstreet Boys' New Las Vegas Show Is Awesome--and a Little Embarrassing--for the Beloved Boy Band (E! Online)
The song the Boys wish they would have recorded and the group they want to collaborate with? Check it out! Backstreet Boys answer EW's lightning round Q&A (EW)
"The new wave of boy band says, 'Oh, we don't do what they do.' But to be honest, to me, it's not as entertaining. What we do is we truly entertain people. Music, staging, dancing, everything." – Howie Dorough LARGER THAN LIFE: THE BACKSTREET BOYS TAKE LAS VEGAS (Elle)
The following are reviews from those who have actually attended the shows. We can't guarantee they're spoiler-free, but we can guarantee that if you read them, you'll want to go see the show immediately.
8 best moments from Backstreet Boys' Las Vegas residency (EW)
What It's Like Attending a Backstreet Boys Concert as an Adult (PopSugar)
'Backstreet Boys: Larger Than Life' Residency: A Lifelong BSB Fan's Review (Pop Crush)
Backstreet Boys' 'Larger Than Life' Las Vegas Residency is a Nostalgic Must-See! (Just Jared)
What It's Really Like to Party With the Backstreet Boys in Las Vegas (US Weekly)
What are you waiting for? Grab your friends and book a flight to Vegas NOW! Don't forget your tickets to the show (and VIP…and the afterparty). Don't forget to share your own experiences and photos by using the #BSBVegas hashtag on your social media channels as well so we can all follow along in the adventures.
- Sara Taylor