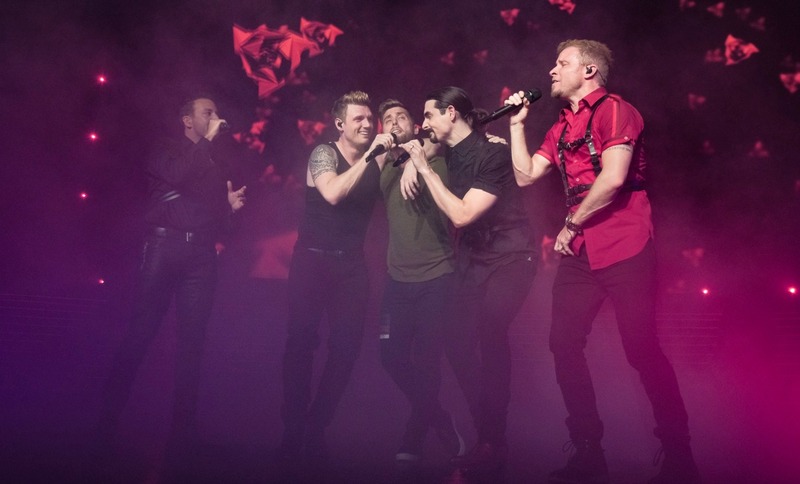 #BSBVegas Brings The Boys, Fans, and Celebrities Together In One Place
This is the first week without the Backstreet Boys hitting the stage in Vegas in 3 weeks and we're already counting down the days until their return on April 12th. Just because Kevin, Howie, Brian, AJ and Nick are currently on a short break doesn't mean the buzz about their truly Larger Than Life show is dying down.

The buzz has been made even louder by a few attendees whose names you might recognize. Dead 7 costars and O-Town band members Trevor Penick and Erik-Michael Estrada, country music artist Josh Gracin, NASCAR driver Kurt Busch, WWE stars Dolph Ziggler and Zack Ryder were all spotted in the crowd in recent weeks. The audience on March 8th thought they had seen it all, however, when Joey Fatone was brought on stage to be serenaded by the Boys (and to lay a kiss on Nick Carter).

…But then a second *NSYNC member showed up to end March with a bang. Lance Bass was also pulled from the audience to the stage during the last show to join in the "Shape Of My Heart" fun. You can read the details of how it all went down here. Who knows which boyband member might show up next!

Surprises like this and the fun-filled show itself are what have many fans booking their trips to go back to Las Vegas for a second (and third and fourth) time in coming months. People from all around the world, boys and girls, young and old are converging to have a good time with friends and meet the Backstreet Boys once again (or for the first time ever). Anyone who's been will tell you – the experience never gets old.

This is the case for Kim and her 96-year-old grandma, Adeline Stevens. Kim, her mother Karen, and Adeline attended a show and VIP meet and greet this month, marking the first time the great-great-grandmother met the Boys since 16 years ago during the Black and Blue tour. To find out more about how she became a fan, who remembered seeing her before, and who her FAVORITE Backstreet Boy is, click here.

Don't experience the #BSBVegas FOMO! There are May and June VIP meet and greets, concerts, and afterparties to choose from all right here. See you there.