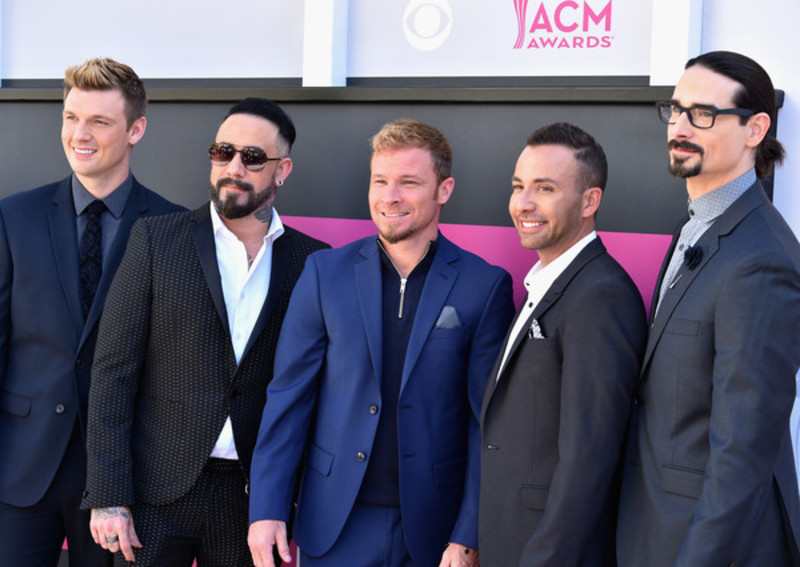 In The Headlines: The Backstreet Boys Rock Everybody At The ACMs
The Backstreet Boys are coming up on 24 consecutive years together in just a few weeks and for quite a few people, this past Sunday was a reminder that Kevin, Brian, Howie, AJ and Nick are still going strong. With their 2001 greatest hits album, Chapter One, back in the Top 10 on iTunes Pop charts, everyone is tuning back into BSB after their performance with Florida Georgia Line rocked everybody (pun intended) at the ACMs. Take a look at a few headlines from the past 24 hours…
Backstreet Boys reunion steals the show at Academy of Country Music Awards (TODAY)
"No surprise that a Backstreet Boys reunion was a big audience hit; the 1990s-era boy band is just the thing to pluck on your nostalgia strings. But who knew they would get the audience on their feet and dancing like lunatics ... at the Academy of Country Music Awards?"
Why Backstreet Boys' ACM Awards Performance With Florida Georgia Line Was Such a Home Run (Billboard)
"…From there, it was absolute pandemonium at T-Mobile Arena in Las Vegas. The group took over the entire building with the classic single and its iconic accompanying choreography -- pulling off both with impressive vitality -- electrifying not only their own fans, but FGL fans who never anticipated getting to hear the duo demand to know "Am I SEXUAL?" in such a setting. Even Tim McGraw, not traditionally the most easily inflamed of country stars, was turned into a gawking 12-year-old TRL viewer, pointing at the stage in open-mouthed astonishment."
The Boys Are Back! FGL and BSB Team Up for ACM Performance — and Get 'Everybody' on Their Feet (People)
"The Florida Georgia Line bandmates previously told PEOPLE that working with the Backstreet Boys had always been a dream for them. "Sixth grade, House of Blues, Orlando, Florida was my first concert ever — it was the Backstreet Boys," Kelley said. "It was awesome, totally inspiring, and to see it come full circle really reminds us to keep dreaming, to dream big, to put out positive energy into the universe, shine your light, and try as hard as you can at whatever you're great at and great things will happen."
He added: "That's what we were reminded of when making [Dig Your Roots]—whatever success may come, you just keep dreaming and stay true to who you are, and go back to the well for more inspiring. I think choosing the Backstreet Boys was a very natural decision. They were Tyler's first CD back in the day and they were everywhere."
Florida Georgia Line and Backstreet Boys Together Is the ACM Awards Collaboration You Didn't Know You Needed (E! News)
"During the set, Carrie Underwood couldn't stop singing every word while Tim McGraw was blown away by the group's dance moves. Dare we say it was larger than life?"
Also, would you believe that the boys of Florida Georgia Line didn't even learn the "Everybody (Backstreet's Back)" choreography until the day before?! Get the scoop right here.
Those from the media aren't the only ones that were impressed with the Backstreet Boys' ACM debut. Among those dancing / singing along in the crowd were country A-listers Carrie Underwood, Keith Urban, and Faith Hill, as well as actress Nicole Kidman. Perhaps no one seemed more pumped though, than Tim McGraw, who excitedly pointed at Florida Georgia Line nailing the Backstreet choreography.
After the show, a few country music artists were still reeling from the Boys simply being present. Hillary Scott of Lady Antebellum posted a photo to her Instagram with AJ, proclaiming that her "life was made", and Maren Morris, who was also spotted dancing along in the audience, simply tweeted that "Nick is still hot".
Could the Backstreet Boys have new fans in the country genre? It would seem that way! We can't wait to see them hit the stage again with Florida Georgia Line in select cities on the Smooth Tour this summer.