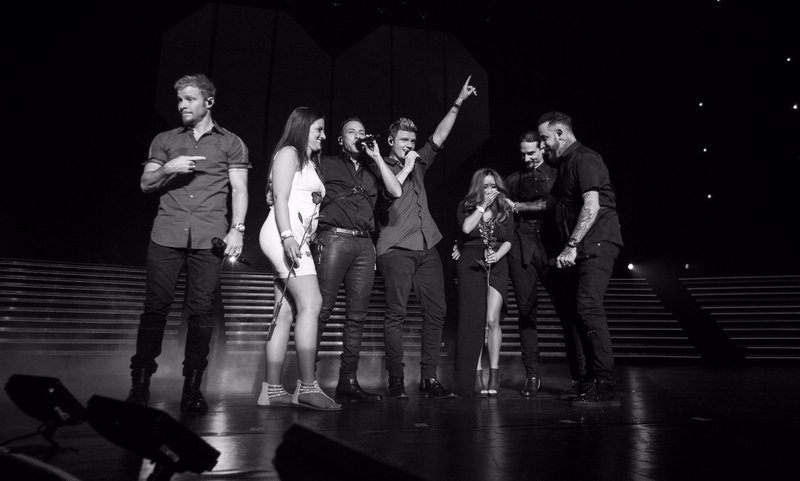 Backstreet Meets Jersey Shore For Their First Week Back in Vegas
Gym. Tan. Laundry. Fangirl?
If Jersey Shore was still on air, that would most definitely be their new mantra after Nicole "Snooki" Polizzi joined the Backstreet Boys onstage Wednesday, the first of eight shows in their April Vegas run. The former Jersey party girl, in town for a friend's bachelorette party, was serenaded by Kevin, Howie, Brian, AJ and Nick during their mid-show performance of "Shape Of My Heart". If you haven't seen how it went down, all you have to do is visit the Boys' Instagram page.
with Brian, posted a photoThis isn't the first time Snooki has publicly proclaimed herself a Backstreet fan. Back during the 2015 Show 'Em What You're Made Of documentary premiere in LA, she found herself staying in the same hotel as the Boys and within hours, Nick and Howie. There's no doubt that she's definitely a lifetime member of the Backstreet Army.
through in April or June and book your travel (tickets to a showDo YOU want to be serenaded by the Backstreet Boys in Vegas? Anything's possible… you just have to be in the audience first! Get your Wonderful Union if you're a FC member).
We can't wait to see who shows up next and for the Boys to celebrate their 24th anniversary (!!!) with everyone next week. If you're headed to Vegas for next week's shows, be sure to catch them at Sugar Factory LV on April 20th. The free event is an appearance open to everyone so that we can all celebrate their anniversary together! If you would like to be seated for dining, feel free to call ahead for reservations. See you there?